I have been playing with LEGO bricks for about 40 years. The LEGO sets of my youth were the general building sets familiar to many adult fans. These were the re-suable box sets made up of basic bricks in basic colors. There were no specific instructions, but the boxes were illustrated with some complete models and there would sometimes be a (quickly-lost) booklet with more ideas.
The idea was to make your own creation. There were few specialized pieces, and even these were pretty basic elements like slopes, wheels, and curved pieces. The figures had no moving arms and no faces.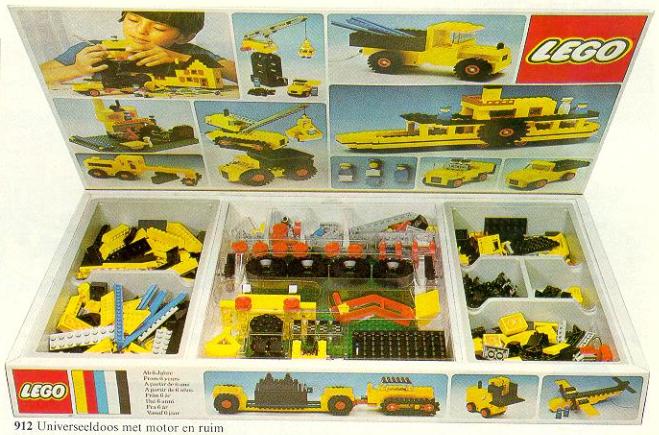 When the Technic line was introduced in the late 1970s, I was the perfect age. Here were "Expert Builder" sets that anticipated the development of those LEGO kids who had imagined how great it would be if the little LEGO car they had pushed along the rug had actual gears and a motor and could move by itself. The Expert Builder sets were of specific models and had complete building instructions, but of course the pieces were all standard and could be combined with other sets to build ever more complicated machines.
Raised as I was on the "old school" LEGO sets, I was one of those snobs who cried that LEGO had sold out and turned its back on all of us by introducing themed sets in the late 70s and 80s. Part of it was that I was then entering my teens and was not terribly interested in the knights, pirates and astronauts that peopled the new LEGO universe. The models on the boxes were impressive, but didn't they discourage imagination and creativity?
Of course they didn't. Building the model on the box was the first thing you did. Then you played with it for a while and maybe put it on your dresser to admire for a few days. Then you went back to your big box of mixed bricks and started making something new, borrowing pieces from the model as needed until you completely took it apart and it was absorbed into your collection.
But now this criticism of LEGO has risen again, but from a different source: young women. A group called SPARK that seeks to address issues of sexualization and stereotyping of girls and women has likened the new LEGO Friends line of sets to products like Bratz, claiming they stifle the imagination and creativity usually associated with LEGO products and replace them with "messages about the value of shopping, clubbing, baking,and tanning."
I have read the open letter that SPARK sent to LEGO several times, trying to understand what is at the root of their complaint. This isn't as straightforward as it seems, because they make some claims and insinuations in their letter that are not supported by facts. There are no tanning beds in any of the new sets, for example, so how it is LEGO is sending a message about the value of tanning is not clear. There are no sets that have "shopping" as part of the theme, either. I think the reference to "clubbing" may be from the Andrea character. Andrea is a musician. She comes with pieces to build a stage and a grand piano. She does not come with a red rope, cocktail glasses or a VIP room.
As for "baking," there is indeed a set centered around this theme. It's a bakery, and the storyline indicates the bakery is owned and operated by the character in the set. She doesn't stay home and bake cookies for the family, she owns a small business.
SPARK seems to be ignoring the actual storylines that LEGO suggests and making up their own sexist versions. I'm not real clear on what is sexist about a set that has a character lounging beside a pool, but SPARK appears to have a real problem with it.
After some thought, I think the root of their problem with the pool set – and with the Friends line in general – is that it looks too much on the surface like other dolls marketed at girls. There are some crucial differences, however.
First, SPARK focuses on only two or three of the sets in their criticism, and they mischaracterize these in order to make their point. Other sets include a veterinarian's office, a design studio and an engineering workshop. Where among the Barbie and Bratz products are the ones acknowledging girls interested in science and math?
Second, there are no boys. One of the sets has a father character, but unlike the Barbie and Bratz lines there are no dreamy-eyed mop-top boys hanging around creating inappropriate sexual tension.
Third, these are LEGO sets. The buildings and vehicles are built completely from the same individual bricks found in other sets. Kids can build the model on the box, or use the pieces to make anything else they imagine, as they have been doing with other themed LEGO sets for the past 30-plus years. This kind of creativity is not  only encouraged by LEGO, but there is an enormous community of LEGO fans that appreciate and support this kind of creativity.
It is the job of parents to raise their children, not toy companies. SPARK complains that LEGO is not giving girls enough credit, but it may be that SPARK isn't giving girls enough credit either. It is true that kids are very aware of the implicit messages delivered through toy marketing. They need a parent who can help put these messages in context and understand their purpose.
As I was about to publish this post, I came across this excellent (and detailed) post on the subject by David Pickett which makes some similar points and provides a lot of good background.